If you love life, after finishing the decoration, the work of pretending to be a beautiful house has just begun. Tables, chairs, benches, sofas, curtains, sheets, carpets, green plants, and paintings, how to choose, how to display, and how to set up are all a matter of thought. Are there any secrets here? Strictly speaking, no. Because there are thousands of people, the layout of each person's home must be carried out according to the living habits and preferences of the family. However, there are always some styles to follow. For example, if we ask a thousand people, maybe a thousand people will say that warmth and comfort are the most important thing at home. So how to make the home warm and comfortable?
1 A reasonable space layout
  The bigger the house is, the better. When you have a 300-square-meter house and the storage problem is solved, the new problem that comes with it is that the area of ​​each room in the home is very large, and you need to walk a long way for activities and communication. The distance has increased a lot of inconveniences; it is also because there are so many household items that are not collected all at once, and the living is not warm and comfortable enough.
  What size of a house is more livable? In fact, in terms of daily residential use, a living area of ​​fifty or sixty square meters can basically meet the needs of a small family, but in life, houses also have to bear the needs of storage, hospitality, and privacy. I think the building area is a reasonable space around 110~150㎡. If you don't want to spend too much money and want to decorate it warmly, then buy a rattan basket and wool mat, a living room with a desire to read and chat. The living room does not need a coffee table, and the TV does not have to be placed opposite the sofa.
2 Create a family core area
  The open space can be one less wall and not more than one wall. Family work, leisure, and dining should be arranged in a large space as much as possible, which is the so-called family core area. At the same time, this large open space must have regulations, and all parts of it, including the living room, dining room, and kitchen, must have their own centers. For example, in a restaurant, there must be cabinets and green plants around the dining table and dining chairs. The distance between the restaurant and the kitchen should not be too far. If there is an island, a simple meal can be arranged on the island. The kitchen, island, and dining room form an activity center, and access to food and utensils should be easy and convenient. In the living room area, a semi-open space is enclosed in the form of two or three sofas or sofas and lounge chairs, creating an area integrating rest, work, and games. The spatial layout that makes people feel happy, you are in you, and you are in me. Create a different family atmosphere by replacing the different colors ultra soft pillow cases.
3 Much but not chaos
 Regardless of the furniture or the bedding, the rooms are basically full of drapes. The reason is not just the lack of space. This tight layout will give a sense of safety and wrapping, which will make people feel comfortable The body and mind can relax, this is the function of a home. This is a kitchen full of smoke and fire, full of carpets, green plants, paintings, and cushions, and it is full of life.
4 cleverly match colors
  The knowledge of using warm colors is great, and it is not an all-or-nothing question. The main factors that make the home look warm are the tone and softness. I think the light orange silky duvet cover set is a good choice. Wooden doors will be better than white doors, and fabric furniture will be more comfortable than leather. Besides, you can put some small decorations in the details, such as a plush pendant at the entrance, and a bow with a ribbon on the switch of the floor lamp. The simple summary is that any color with a little grayscale will appear advanced, and the color given by nature will appear warm. So what is the color is given by nature?
 The color of marble, the popular marble tiles are also trying to replicate the texture and texture of natural marble.
 The green of plants and a pot of plants in a dilapidated space will be full of vitality. This is a truth we all know. In addition to the plants themselves, we can also use green boldly, and various levels of green will not disappoint. No need for high-grade plants, a corner of the window hanging down will bring endless vitality to the room. Paint the roof green, and the whole room suddenly feels quiet and elegant.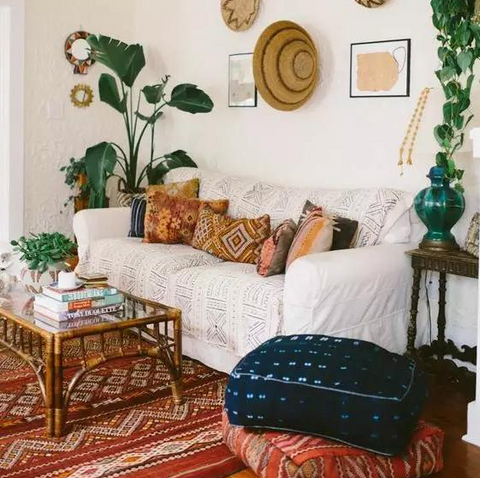 The texture comes from natural materials. Wood, cotton, linen, wool, leather, these materials that nature gives us are the most affinity things. Although they basically have substitutes, the chemical fiber blankets with regenerated patterns are not as good as natural knitted blankets.And linen duvet cover set is worthy of everyone.These natural materials not only bring us eye-catching eyesight, but also a sense of intimacy in touch. Returning to nature may be our most comfortable experience.
Finally, it is people, not things, that can make the home warm and comfortable. The highest realm of a home is the friendship of relatives and the harmony of the family. With these, even if your family is alone, you will get warmth.